Welcome to the online home of Bognor Regis Model Railway Club
Our biggest and best yet exhibition, in mid-January, has now been and gone. You can see a brief report by following this link. But keep an eye on this website. Not only is next year's exhbition already being planned but we intend the words "biggest and best" to apply yet again. Additionally, we held another Open Day in 2014 so bookmark and revisit to see what's going on.
*******************************
Our new home(s) are approaching completion - the former Barnham Signal Box for our meeting place and the Goods Shed for storage of layouts. Still some way to go for completion but we expect to take up residence in 2015. Below can be seen the signal box.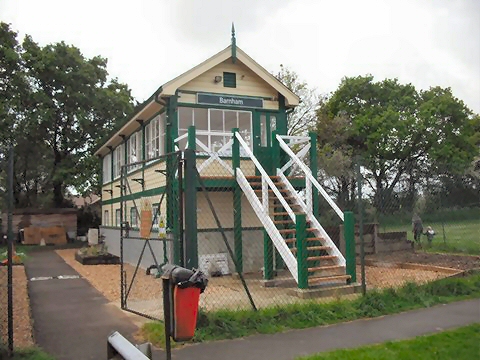 We welcome anyone who models in any gauge and scale. OO is the most modelled within the club, however, we have members who model in N, OO9, 3mm, HO, 0-16.5, O and G scale as well as tiny T gauge.
We encourage all members, irrespective of which scales and gauges they prefer, to participate in the design, construction and operation of all layouts.
Please follow the links above, and the news items aside, to learn more about what we do